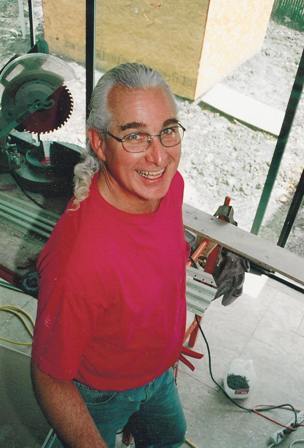 Ronald L. Siebler is a residential general contractor serving customers in the Dallas - Ft. Worth community. His portfolio contains an impressive array of projects that include numerous kitchen and bath remodels, additions, new construction, ecclesiastical renovations, historic preservation, and museum quality restorations. And in November 2012, he was the recipient of the 2012 ASID Dallas Design Community Designers' Choice Award for Contractor/Remodeler.

With uncompromising standards, Ron brings together the finest tradesmen, artisans, and design professionals to realize the dreams and particular wishes of the client. His personal presence at the site and side-by-side involvement with his team provides each project with attentive management and timely completion.

After years of hands-on experience, Ron has developed a philosophical, as well as methodical, approach to the work of residential remodeling and renovations. This perspective is derived from his belief that the work of remodeling and renovation reside within the genre of performed art. Consequently, Ron only works on one major project at a time, which permits him to be completely focused and dedicated to meeting the customer's specific needs. Siebler also provides a complete range of installation and repair services for the home. From replacing a door knob or repairing a leaking roof to changing a switch, Ron delights in being able to assist his customers with even the smallest of repairs.

Ron's interest in historic preservation dates to 1984, when he was involved with the first restoration of the Denton County Courthouse on the Square (circa 1897). Since then he has supervised preservation efforts on the First United Methodist Church in Hutchins, Texas (Circa 1885), and he has worked to preserve and rehabilitate The Trevillion Blacksmith Shop (circa 1910) at Heritage Park in Sulphur Springs, Texas. Siebler recently worked with Ann Abernathy, AIA, and other members of Booziotis & Company Architects as a Preservation Consultant and actively participated in the development of a Master Plan for the Nance Farm located in DeSoto, Texas

Ron's current work includes the repair and restoration of the Pilot Grove Church (circa 1895) and the Renner School (circa 1888), which are located on the grounds of Dallas Heritage Village. During the early stage of the project, and as part of an educational funding component, work on the south face of the church bell tower was done in period attire while using hand tools, historically informed methods, and period appropriate scaffolding and ladders (Circa 1910). At the same time, work on the west face was done using modern tools and equipment. This juxtaposition allowed park visitors to see and compare a century's difference of doing the same work on the same structure.

Ron frequently volunteers as a Living History Interpreter at the Stuhr Museum in Nebraska. He also volunteers his time at the Hopkins County Heritage Park, where he serves as Resident Blacksmith, and at the Heritage Farmstead Museum in Plano, Texas. Siebler has his own blacksmith shop where he hand crafts a wide variety of metal items and architectural pieces using antique tools, and a coal fired forge.

Siebler has built and contributed four playhouses to the Parade of Playhouses at Northpark benefiting Dallas CASA. His involvement with the community also includes three terms as a member of the Board of Directors for Promise House in Dallas, Texas. As a volunteer with the SAW Project (Servants At Work) of First United Methodist Church - Dallas, Siebler organized and supervised the repairs and renovations of over 50 Dallas area homes for poor and elderly residents. Ron has also assisted with flood and tornado relief efforts in Texas and Missouri.
Siebler's firm is certified by the EPA, and Ron is an "EPA Certified Renovator." He is also licensed with several municipalities, including the City of Dallas. He holds memberships in numerous institutions and organizations.